STUART A ROOSA ASTRONAUT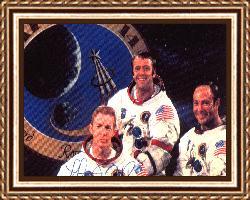 Col. Stuart A Roosa, Astronaunt
Apollo 14 Command Pilot 1971
In front row, "red haired"
August 16 1933-December 12 1994
"Apollo 14 means a lot of things to me but the biggest thing it means to me is pride. I am proud to be part of our entire dynamic space program"-Stuart Roosa
Claremore Progress, Claremore, OK 12/13/94

---
Stuart Roosa told youngsters at Clarendon, Oklahoma school named for him he was a "regular guy". But afterall, the red haired pilot was the only person from Claremore who had been to the moon. One of six Apollo astronauts to fly solo around the moon.


He was born to a traveling family and spent much of his life in the air and on the road. Born August 16, 1933 in Durango Colo. Son of Dewey and Lorine Roosa. His father was with the Corps of Engineers and the family lived in several areas.
Rogers Co. was home to his mother, who died in 1993, his father died in 1991. Stuart attended grade school in the Justus area. He graduated from Claremore High School, Claremore,OK. in 1951 and attended Oklahoma State Univ. In early 1950's he worked for the US Forest Service fighting fires as a smoke jumper. He was in the USAF from1953-1976.

He attended Gunnery School at Del Rio AFB, TX. and Luke AFB, AZ. where he received his flight training commissions in the USAF. He graduated from Aerospace Test Pilot School and was an experimental test pilot at Edwards AFB, Calif.
From July 1962 to August 1964, he was a maintenance flight pilot at Olmstead AFB, PA., flying F-101 aircraft. He was trained as a fighter pilot at Langley AFB, VA where he flew F-84F and F-100 aircraft.
Following graduation cum laude from Univ. of Colo. under the AF Institue of Technology program he did a tour of duty as chief of service engineering at Tachikawa Air Base, Japan for two years.
Through out his career, he logged more then 5,500 hours of flying time and 217 hours in space. His fellow crew members on the 10-day space flight were Alan Shepard and Edgar Mitchell. Throughout the 33 hour stay on the surface of the moon by Shepard and Mitchell, Roosa remained in the lunar module "Kitty Hawk", to conduct a variety of assingned photographic and visual observations such as the Moulten Point an area almost one million miles from earth where the gravitational forces of the sun, earth and moon are exactly balanced. He also, performed experiments to answer questions about the compostion of the moon. He said it was fitting to be in the command module because he always liked to fly alone.

After leaving NASA and the AF Roosa was Corporate VP for the International Operations for US Industries, Inc., Oak Brook, ILL and President USI Middle East Development Co. Ltd., Athens, Greece from 1976-77. Since then he moved to his wife's native Mississippi. Later becoming President and owner of Gulf Coastal Coors, Inc. Gulfport, Miss.

AWARDS
NASA Distinguished Service Medal
Johnson Space Center Superior Achievement
AF Command Pilot Astronaut Wings
AF Distinguished Service Medal
Arnold Air Society's John F Kennedy Award 1971
City of NY Gold Medal in 1971
American Astonautical Society's Flight Achievement Award in 1971
Order of Tehad in 1973
Order of Central African Empire in 1973
PMD from Harvard Business School, Mass.
Honorary degree from St. Thomas Univ., Houston

On the 20th anniversary of the Apollo flight, he chose to be in Claremore with his mother and paid a visit to the school named for him. He was an inspiration to the children there telling them " they could do anything they wanted".
He was certainly proof of that!

His death came suddenly on December 19, 1994 at Fairfax Hospital, Falls Church, VA and was said to be from complications of Pancreatitis beginning Thanksgiving week end. He was buried at Arlington Cemetery.
He was survived by his wife Joan and three children

"Stuart Roosa was one of the "can do" space farers. who helped take America and all humankind to the moon," said Nasa Administrator Daniel S Goldin on learning of Roosa's death.

"We honor Col. Stuart Allen Roosa" He brought much to the world and much pride to Roosa descendants!
---
Genealogy
Stuart A Roosa

Heyman Guysbert
Albert Heymans Roosa + Wyntje De Jongh
Ariense Heymanse Roosa + Marya Pels
Evert Rosa + Tietie Van Etten
Arie Roosa + Geestje Ostrander
Evert Roosa + Gertje VanSteenberg
Jacobus Rosa + Maria Goetchins
Abraham + Elizabeth Weaver
Simon W Roosa + Elvira Percilla Jones
Dewey Roosa + Lorine DeLozier
Stuart A Roosa + Joan Barrett
---
Ref & credits for this page's source are:
AP News
Claremore Progress, Claremore, OK
Special thanks to
Wilma Roosa, Claremore, OK
Sally Roosa, Washington
Page prepared by Sheila Roosa Soto, TX